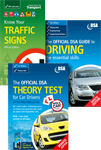 - The first is Theory Test: This is a computerized multi-choice test, which has an interactive hazard perception test to complete at the end.
- The second is your Driving Test: This is a practical test of your driving ability and manoeuvrings that you have acquired from learning to drive with us at Right Driving School.
When you're learning, you'll need to put 'L' or 'P' plates in London on the front and back of your car – somewhere they can be seen easily. And you're only allowed to drive with someone who's passed their test, is over 21 and has been driving for three years or more.
Your 'L' plates also have to meet legal specification – so buy them rather trying to knock some up yourself. Whenever the car is driven by someone who's passed, the plates need to come off or be covered up.
Helpful tools
Boost your skills and chances of passing with a PC programme, video or books. Check out Right Driving School Price page for our offers.